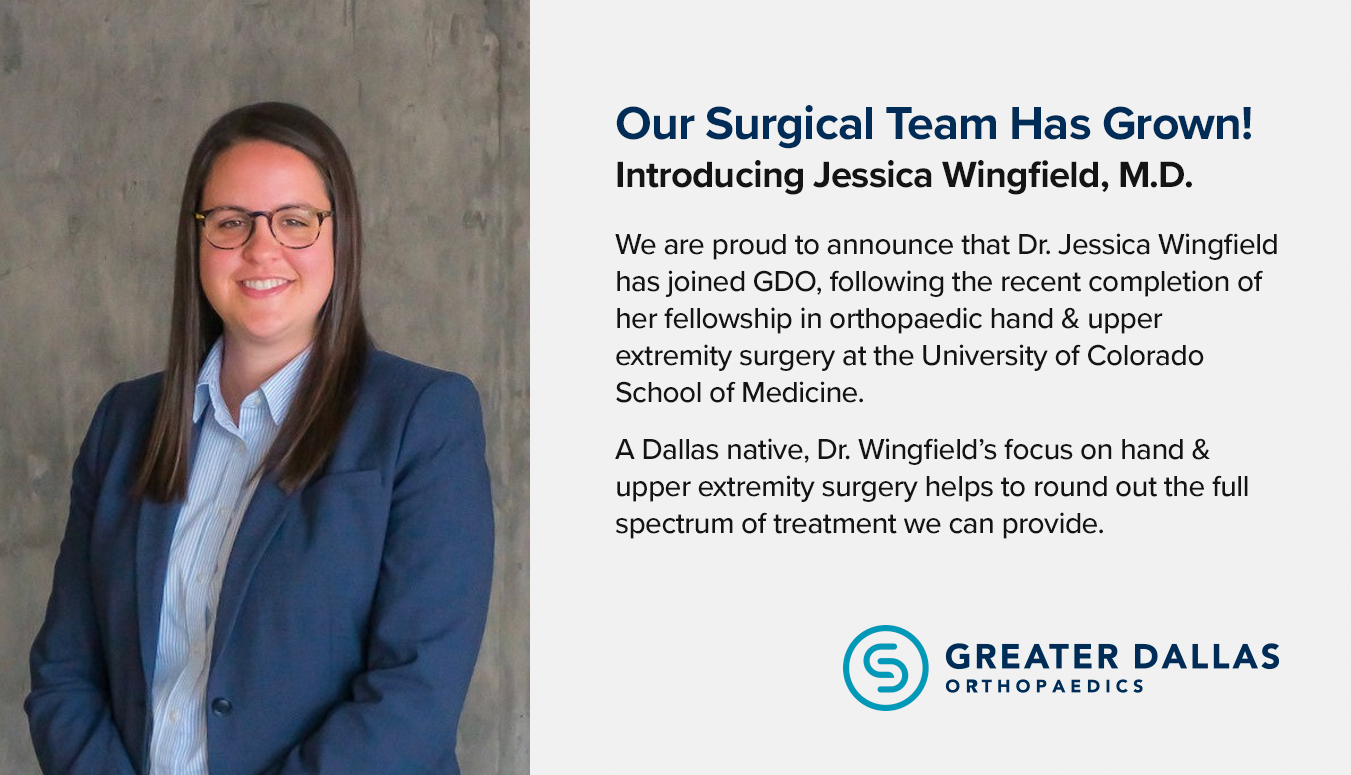 Dr. Wingfield graduated Magna Cum Laude from Texas A&M with degrees in both biology and political science. Immediately following, she completed a general surgery internship and orthopaedic surgery residency at the University of Texas Southwestern Medical Center & Parkland Hospital in Dallas. During her final year of residency, she served as Chief Resident of her program and received the W. Brandon Carrell Distinguished Physician Award. After her residency, she completed a fellowship at the University of Colorado School of Medicine in Denver, which focused on orthopaedic hand & upper extremity surgery.
During her tenure at Texas A&M, Dr. Wingfield was a member of the Women's Track and Field Team, earning All-American honors in javelin. In addition, Dr. Wingfield had the privilege of competing in the 2008 United States Olympic Trials prior to entering into medical school.
Dr. Wingfield was initially attracted to a career in medicine after volunteering at a local hospital while in college. During medical school at UT Southwestern, she became interested in orthopedic surgery after she had the opportunity to spend time at the world-renowned Texas Scottish Rite Hospital for Children as a research assistant. When asked what drew her to a career in orthopedic surgery, she spoke about how gratifying it is to be able to treat both children and adults with a wide range of musculoskeletal conditions. She went on to describe how orthopedic surgery is unique within the field of medicine, in that it focuses primarily on restoring people to their highest level of function so that they can get back to participating in the activities they love.
Though she is new to the GDO team, Dr. Wingfield has already worked alongside both Dr. Gilbert and Dr. Mollabashy during her surgical training. The experience of working with them and knowing GDO's reputation in the metroplex, as well as the added bonus of returning to be near family, are what drew Dr. Wingfield to join Greater Dallas Orthopaedics. In her free time, Dr. Wingfield enjoys cooking, traveling, watching college football, and spending time with her friends and family.
It's with exceptional pride that we announce this addition to our team. We can't wait for Dr. Wingfield to meet our patients and continue what has already been a remarkable young career in orthopedic surgery. If you or a loved one is seeking treatment following a hand or upper extremity injury or any of the other treatment types offered by Greater Dallas Orthopaedics, we encourage you to reach out and schedule an appointment today. Same-day appointments are typically available.