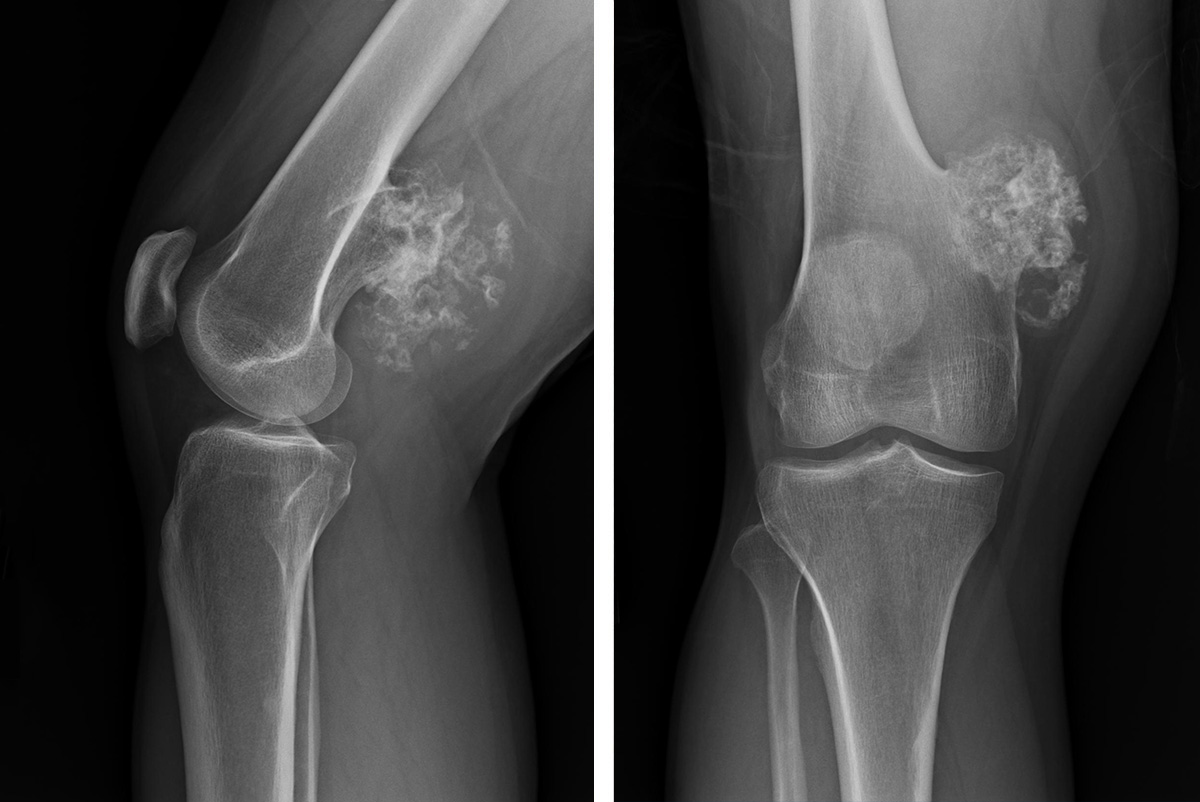 ---
What is a bone tumor?
A bone tumor is a benign or malignant growth arising inside or on the surface of the bone. Depending on the specific type of tumor, surgery to remove it may be required. Usually, patients experience a mass or pain in the affected area. These cases are uncommon and need expert treatment for the best outcome.
---
What is a benign bone tumor?
Benign bone tumors are rare, noncancerous growths that can arise from any bone. Benign bone tumors are more common in younger patients and are usually found with a bone mass or pain. Often, benign tumors are discovered incidentally when patients have X-rays and MRIs for other reasons.
---
What is a malignant bone tumor?
Malignant bone tumors are extremely rare and are called bone sarcomas. They can start in any bone and all age groups, and are often treated with a combination of surgery, chemotherapy, and radiation.
---
How Does Bone Cancer Start?
The most common way in adults is that a cancer that starts somewhere else in the body and spreads or metastasizes to the bone. Common culprits include breast, lung, prostate, kidney, and thyroid cancer.
---
How Rare are Sarcomas?
Extremely rare, making up less than 1% of all cancer diagnoses.
---
What are Some Common Types of Malignant Bone Tumors?
Some examples of malignant bone tumors include osteosarcoma, chondrosarcoma, Ewing's Sarcoma, and myeloma.
---
Are Benign & Malignant Bone Tumors Diagnosed Differently?
No. In either case, sophisticated imaging is necessary to make a diagnosis. Once images are made through the use of x-ray, CT scan, MRI, bone scan, or PETscan; an orthopaedic tumor specialist examines them and makes a diagnosis. In both cases, a biopsy is often used to confirm any diagnosis.
---
How are Benign Bone Tumors Treated?
Asymptomatic benign bone tumors are often treated by observation, with additional scans are usually ordered to make sure that the tumor is not growing. In the case of symptomatic or enlarging bone tumors, minimally invasive surgery is performed where possible. Typically, the tumor is removed carefully, and a bone graft substitute is placed in the defect to restore the patient's skeletal structure.
---
How are Malignant Bone Tumors Treated?
Malignant bone tumors are often treated with a combination of surgery, chemotherapy, and radiation. In most cases, multiple specialists are involved in a patient's care, including the surgeon, radiation oncologist, and medical oncologist. If surgery is required, surgeons remove the tumor and then reconstruct the bone defect with a prosthesis, cadaver bone, or both. These surgeries are remarkably complicated and best done by an experienced surgeon.
---
We hope that this served to shed some light on bone tumors at a high level. You can learn more about orthopaedic tumors, soft tissue sarcomas, and joint replacements on our blog our throughout our site.
If you've been diagnosed with or suspect you may have a bone tumor, we encourage you to reach out to Greater Dallas Orthopaedics today to schedule a consultation. Each year, our surgeons see several thousand orthopaedic tumor patients in the clinic and perform approximately 1,100 musculoskeletal tumor surgeries. Such volume creates an unparalleled experience in Texas and this region of the US, and we want to extend that expertise to you.